---
---
Testimonials
Dominika Jana Bauer (Germany)
My time in Coquitlam has been awesome. Playing field hockey helped getting to know people. It was a fun experience, nice to get to play the sport I love and run after my competitiveness. Being part of the ES (Environmental Studies) Academy at Centennial reminds me every day that it was the right decision coming here. I'm learning so much about not only nature, animals, plants or fungi but also about myself and my peers in ways 'regular' school couldn't. I get to be outdoors and challenge myself. Other parts of ES (not outdoor related) are self-growth and encouragement of lifelong learning. Through ES I got to see a lot more of Beautiful British Columbia than I would have without it. My homestay has been kind and welcoming since the beginning, wanting me to become a part of their family which has definitely happened. After this school year, I'm going to stay for another month and then go back to Germany to pursue my education. If you're thinking about coming here, go for it! You'll get to meet amazing people and have a fun time. And if you love the outdoors, look into the ES Academy program at Centennial Secondary!
Jordan Glowinkowski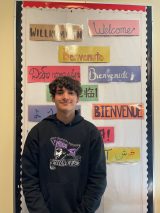 Jordan Glowinkowski, a grade 10 student at Terry Fox Secondary School, is a member of the Interlinked Club. Canadians and international students work together to acquire the knowledge, skills and attitudes of global learning that enable them to understand world cultures and events, analyze global systems, and appreciate cultural differences.
"My experience in the Interlinked club has been nothing but positive. Everybody within the club is extremely friendly and willing to help. Having this club gives a sense of security and joy to international students, because it tells them that they do have a place to go to if they are needing help or want somebody to talk to. From this club, personally, I have met many new friends from around the world that I share common hobbies with! Overall, this club has had a positive impact on me because I love meeting new people and helping out the community."
Max Dai (China)
DAI, Yuyang (Max), a grade 5 international student from China, has been snowboarding since he was 4 years old. In 2018, he started competing in National Championships at the age of 6. Max trains all over the world – Canada, USA, Japan, and Australia.
In 2019, Max competed in the USASA (USA Snowboard and Free Ski Association) National Championships in North Tahoe, Colorado, placing second in his age group. In 2020, Max placed first (in his age group) in the USASA National Championships. Max was invited to the Canada Snowboard Air Nation Freestyle Tour 2022 in Calgary, Alberta– where it brings the best athletes together from around the world to compete in slopestyle, big air and half pipe competitions. Max loves his school, Pinetree Way. Mr.Leonard, the school principal, and his teachers, Ms.Biscaro and Ms.Doyle, make him feel "just like at home". When Max found out that Coquitlam was situated close to the mountains, he told his family that he wanted to move to and study in Coquitlam School District. His message to potential students – "Come and stay in Coquitlam and feel the power of mother nature and be inspired".
Francesca Frey (Italy)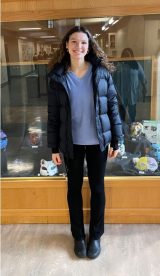 I couldn't expect a better student exchange than the one at Riverside Secondary School in Coquitlam School District. Being an international student means that you are faced with a new culture, new people, new school, and new family. One of my smartest decisions was joining Riverside's Senior Girl's volleyball team. We not only won the BC Provincial Championships, but I had the chance to meet so many people that are now a part of my life forever. I am also very grateful to my coach; I learned something new from him everyday. Canada is such a beautiful country with a lot of nice landscapes; I am so thankful for everything. If you are undecided to study in Coquitlam do it – it's an experience that you won't regret!!
Xiaoxuan Wang (China)
Xiaoxuan Wang, a grade 12 international student from China, was one of two students from Canada awarded the University of Toronto Lester B. Pearson International Scholarship this June 2021. A high school can nominate only one graduating student. This year 2200 nominations were submitted from high schools from around the world. 34 students were selected for this award. This prestigious scholarship covers full tuition, fees and residence for 4 years. Pearson Scholars are students who have demonstrated exceptional academic achievement and creativity, who are accepted as leaders within their school, and who have the potential to contribute to the global community in the future. They can be distinguished from other students who may have equally high academic results by virtue of their breadth of interest, intellectual energy and impact on the life of their school and community.
Xiaoxuan will miss her friends and teachers at Pinetree Secondary School. She plans to pursue a Bachelor's of Commerce Degree in the Faculty of Arts & Science, Innis College, Rotman Commerce.
Maria Clara Baracat (Brazil)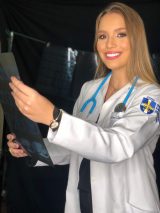 Spending six months in Canada, especially in Coquitlam, was the best decision I have made. Even five years later I still think the same. I can't fail to mention how the school and studies in Coquitlam surprised me. Everything was very organized and everyone was willing to help you 100% of the time. Riverside School really captivated me. I came across with a loving homestay family, who welcomed and cared for me like a daughter. I still have contact with them and I hope to visit again one day. I can guarantee they have a place in my heart and I love them very much. I still think about my time in Coquitlam every day, and I have to mention, I had the time of my life! I will always be thankful to everyone who helped me during those months.
Irene Palermo (Italy)
Hi everyone! I'm Irene and I'm 18 years old. I'm from Italy and I study languages at school such as English, Spanish, and Mandarin.I've been studying Chinese for over 3 years so far but I it's not a compulsory course, I chose to study Mandarin at school and I was free to select this course; lots of students in Italy choose to study Mandarin because they are interested in the culture, the people and because it is one of the languages of the future. Last year I spent ten months in Canada, more precisely I was in Coquitlam, forty minutes by sky train from Vancouver. It was a great experience that helped me grow as a person, and it helped me practise what I learned at school, because I made contacts with teenagers from all over the world. I studied at Centennial Secondary School and there I could prepare for the subjects I needed for my school back in Italy. I also had the opportunity to keep studying Chinese at the Confucius Institute in Coquitlam, where a nice teacher helped me improve my skills. My host family took great care of me; they made me feel part of the family and even during the pandemic, they never abandoned me. I really enjoyed my time in Canada, and I hope everyone can live an amazing experience like I did!
Eric (Canada)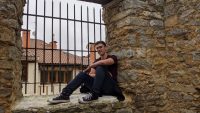 Riverside hosts many international students each year, and I've been lucky enough to get to know some of them. They tend to be smart, curious people with unique perspectives of the world, and they allow me the opportunity to learn about other cultures while sharing my own. One particular friend convinced me to go on a student exchange in Spain, and it was the experience of a lifetime. My eyes were opened to the world, and the lessons I learned were completely unique to those I would have at home. Like my international friends, I became more independent, made global relationships, and even learned a new language! I'm grateful to have friends from all around the world, because they share some of my best memories, make me think in new ways, and pushed me outside my comfort zone.
Duc Minh Hieu Nguyen (Vietnam)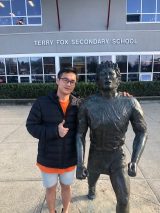 I think people should come to study in Coquitlam. The school system and the facilities in my school are very good. The teachers help me when I don't understand and explain everything clearly. People here are very friendly, and I can comfortably talk with them. I want to become a leader in the Terry Fox family, and I am very proud that I attend Terry Fox Secondary School. I have gotten involved in the local community and even volunteered in the Terry Fox's hometown run.
Igklas Chettermohamad (Thailand)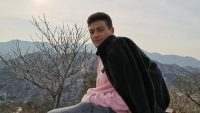 Moving here from Thailand has been an eye-opening experience for me. In the past 3 years that I have been here, I have learned so much and made amazing memories. In a new school with unfamiliar faces, new languages, new classes, I had to do something for me to know more people and feel less anxious of the big change. Being a part of the Pinetree sports team made me feel so much more comfortable because I was doing what I love along with getting the chance to meet many new friends and teammates. In a short amount of time, I felt like I was a part of the community and I truly felt proud representing my new school. I am finally graduating from grade 12, and I was fortunate enough to have received the male athlete of the year award. I never would have thought I would receive an award of this calibre. My years in Pinetree were the best 3 years of my life. Don't be afraid to step out of your comfort zone, because you will grow the most during these times. Don't miss out on a huge opportunity to be a part of an awesome community!
Karina Bastos (Brazil)
My experience was the best; it was essential for me to build maturity and independence. My high school experience in Coquitlam was everything I always dreamed of as a child. I had the complete Canadian high school experience; I joined the cheerleading team, participated in the school musical, and volunteered in the community; so consequently, I made friends for life during these activities. Academically speaking, I challenged myself at Terry Fox Secondary School and exceeded my expectations. I took several different classes and achieved my goal of being accepted at my dream post secondary school, which is where I am currently at, Simon Fraser University. With the support of my host family and staff from Terry Fox Secondary, I was able to thrive and start the next chapter of my life in Canada.
I have been in Canada for almost 4 years now. None of this would have been possible without the support I received from my host family, especially from my host mother, who I bonded with deeply and consider to be family. My future plans are to remain in Canada and obtain a degree in environmental sciences and work in the field.
To all the students out there thinking about studying in Coquitlam, my advice is to not be shy and get involved as much as you can in school activities -trust me, I have been there so I know how difficult and scary this can be, but you will meet wonderful people and have an amazing experience!!
Eadie Rawson (Australia)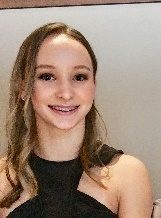 My decision to be part of the international program in Coquitlam has been the most transformative and life changing decision that I've ever made. My situation is a bit unique in that not only was I given the opportunity to attend a Canadian Secondary school but as an elite athlete, I also had the opportunity to train with one of Canada's best gymnastic coaches. I was accepted into an elite performers program offered at Riverside Secondary and a modified curriculum was created for me. This has allowed me to get the most out of both school and gymnastics while making new friends. My host family are by far the loveliest people I've ever met. They are very supportive and have accepted me into their family straight away. My host sister is incredible and is so helpful and has become a lifelong friend of mine. I feel I am part of the family, rather than just a visitor. I couldn't recommend this experience highly enough to anyone considering doing it. Canada will forever be important to me and I have no doubt I will continue to visit many times throughout my life.
Darwin Park (Korea)
Hello! My name is Darwin Park, I am an international student from Korea. My 5 years in the Coquitlam international education system and Pinetree Secondary School has not only been amazing but also transformational. When I first arrived in Canada, English was a cacophonous blur of foreign sounds I couldn't understand or recreate. I became determined to master English, by creating a strategic plan composed of small goals. After a mere 2 years, I was able to communicate with my teachers and friends at ease and actively participate in the community. Canadian society is full of opportunities that require individuals' effort to discover. I voluntarily participated in programs and organizations including SHAD, Youth Helping Youth and Young Entrepreneurs and Leadership Launchpad (YELL). This year, I am fortunate enough to be the winner of the Venture Challenge(a Dragon's Den style business competition) where me and my team's effort in YELL were displayed. In the future, I admired to be a creative thinker, helpful supporter and a meaningful innovator and an entrepreneur who changes the world for better. I appreciate my friends, teachers and every acquaintance who motivated and supported me. Coquitlam is my second hometown and memories will forever be cherished.
Mrs. Thümecke (Parent from Germany)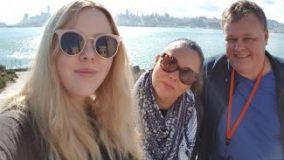 As Lili's mother and also on behalf of my husband and of course Lili herself, we sincerely thank you for the professional support and acceptance of our daughter in the International Education Program. From the application, to the visa creation and of course the school support everything worked really well. This can certainly be described as exemplary and leading. Of course, we did our homework and investigated the topic and in doing so learned how world leading Canada's school system is. Things that stood out as special features of the Canadian school system are the large selection of subjects, the close relationship between teachers and students as well as the demanding level of education
All in all a great experience and like I mentioned before, we remain great supporters and ambassadors of your fine country.
Faraz Khoubsirat (Iran)
Faraz Khoubsirat, a grade 11 student from Iran, won the "Top Academic Student Award". "Living and studying in Coquitlam is one of my best life experiences which provided me the chance to learn about different cultures from all over the world. I live in one of the world's greatest places, British Columbia, Canada".
Mrs. Kawahara (Parent from Japan)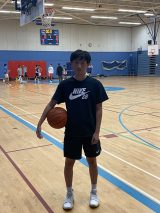 We are so grateful to have the basketball class at Aoi's school, Centennial High School, and he enjoys every single moment. Also, team members, coach, school staff are all so kind to Aoi. And his coach is taking him to the practices so we are grateful for that as well. His host family is so kind and just recently made Japanese food for him; Aoi just loved it and loves the family!! With all the wonderful experiences being just the right fit for our son, we will definitely recommend this experience to all parents and students who are interested in basketball and studying abroad.
Hansaem (Sam) Jung (Korea)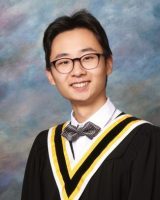 The twelve years that I have lived as an international student residing in Coquitlam has been nothing short of amazing. I've made unforgettable memories, including my first day of school at Coronation Park Elementary, the valedictorian speech I delivered at Eagle Ridge Elementary, the three-day camping trip during my time at Scott Creek Middle, and competing in school sports at Gleneagle Secondary. I strongly suggest any unsure prospective international students to take the leap. The friends I've met have shaped me to become the person I am today. My teachers have helped me achieve my goals and have always guided me in the right direction. I was fortunate enough to be awarded the International Major Entrance Scholarship at UBC. The great experiences and people I've met during my time in Coquitlam will stick with me for the rest of my life.
Moon Young (Sophia) Kim (South Korea)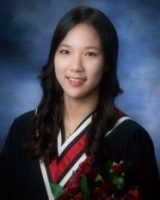 Moon Young (Sophia) Kim, a grade 12 international student at Terry Fox Secondary School, placed first in the Stanford Invitational Speech and Debate Tournament in early January of this year. She also placed in the top 32 in the Harvard High School Invitational Tournament in October 2015.
Sophia started a debate club at Terry Fox Secondary School 4 years ago. There are currently 12 members.
"I came to Canada when I was in grade 2 and my experience here has been great ever since. The people here are great and the staff at the schools I attended were not only knowledgable, but also supportive of whatever I did. One of the best qualities of the schools in SD43 is that the counsellors and the teachers are all supportive of all the things I do and they never fail to help me the best way they can. I felt this compassion and support especially at Terry Fox Secondary, the school I attend right now. Mr. Chambers, my counselor, has supported me in many things from entering me into the district's speech contest or helping me with my university applications.
I believe that this friendly atmosphere and the great support system fueled me to become the confident, determined student I am today. I hope to get into one of the prestigious universities I applied for and later matriculate in a law school to become a lawyer or a worker in the political world. I love to fight for justice, especially through public speaking and making unheard voices heard, which is part of the reason why I love debate so much".
Ali Afrazi (Iran)
Studying as an international student can be challenging. Students usually find it difficult to adapt to a new society, but the thing about Canada is that people are so welcoming and friendly. I stepped up and turned this challenge into an adventure by joining Terry Fox Secondary's football team (Ravens). I soon realized that sports are an important part of the Canadian high school experience. Also from an educational aspect, Canada is the great destination to study and get higher degrees. Taking Economics 12 during my first semester helped me to figure out that I'm really interested in economics, and it gave me an idea about what I want to do in my future. I really recommend to all international students here to take advantage of this chance and to participate in different activities, because studying abroad is all about experiencing new things and becoming independent, so keep exploring.
Henrique Costa E Silva (Brazil)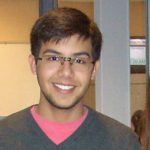 Canada as a destination: I think Canada is a popular place for exchange students because the education here is one of the best in the world. Also, the weather here is very different from anything in Brazil, which attracts a lot of people. The population itself is different; people here are somehow more open to differences and new cultures, which really facilitates our immersion into the Canadian way of life. In my personal opinion, the one factor that brought me to Canada was the fact that for the first time in my life I would be somehow independent. I would get to use my English and knowledge about life to make it through the day; it was a unique opportunity to grow as a person.
George Wang (China)
My name is George Wang, and I have been studying in Canada for one and a half years.
I am an international student from Dalian, China.
Coquitlam School District has given me so many unforgettable memories.
I am a straight A student, enjoy volunteering as a tutor in Coquitlam Centre Library, play tennis at People's Court, and love to socialize with my friends from all over the world.
I recently placed first in the Canadian Senior and Intermediate Mathematics Contest in Coquitlam – Intermediate Division.
I am getting used to the school system and life in this wonderful city, with great relationships with responsible teachers and friends!!!
Takemasa Oyama (Japan)
My name is Takemasa Oyama. I have been an international student at Gleneagle Secondary School since 2014. Many people did not know about my country other than anime and sushi. When some people started asking me about Japanese history and culture, I realized I had an opportunity to share my enthusiasm and knowledge of Japan so I created the Japanese Culture Club in 2014. A group of interested students came together once a week to celebrate Japan and multiculturalism. The first thing we did was create a sister school in Japan. If you are an international student, I believe you can bring your love and knowledge of your home country and then learn about Canada, and become a global person. What I learned here most is how beautiful and strong multiculturalism can be.
Jiayu (Ellen) Shao (China)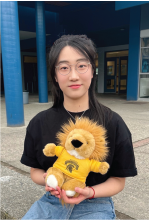 My name is Ellen, and I am a Grade 12 student at Dr. Charles Best Secondary School who will be studying Mathematics/Financial Analysis and Risk Management (FARM) at the University of Waterloo in September 2022. My school and community have given me the resources to further expand and utilize my skills in a practical setting. Witnessing several students at my school struggling with math and science-related subjects, I founded the club Best Study Network to provide assistance through weekly tutorial sessions for students at my school. I have also involved in many clubs, including Best Buddies and Paws for a Cause, where I have learned to lead and communicate in a team. Furthermore, I have participated in numerous math contests while taking my time to mentor others in the peer tutoring program and as a teacher assistant. In the community of Coquitlam, I volunteer in programs such as the Homework Help Club and Reading Buddies in Coquitlam Public Library. I have met many amazing people at my school, in my community, and in Beautiful British Columbia. My friends have brought a lot of happiness to me, and my teachers have provided me with valuable skills and resources to prepare me for the road ahead. Looking back at the Grade 9 girl who was so shy and uncomfortable with her new environment, I am so proud of who I am, what I have accomplished, and what I have contributed to my school and my community. I will always appreciate the experience of studying in Coquitlam, and I will bring these precious memories with me on my journey to keep exploring. Coquitlam will become your second home where you learn and develop into a well-rounded individual and I 100% guarantee that you will have a memorable and inspiring journey with SD43.
---
Why Study in Coquitlam?
Consistently rated by British Columbia Ministry of Education as one of the best districts in the province New "state-of-the-art" schools with the latest equipment and technology Safe and...
more information